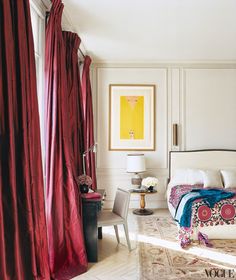 Setting the stage for color trends for 2015, Pantone has chosen the color Marsala for its color of the year. Inspired by the wine of the same name, Marsala has a red-brown richness that beautifully combines sophistication and earthiness. With many applications in hone decor, Marsala is a nice go-to color for both main focal colors and accents. Here at Window Products, with showrooms in Southbury and Branford CT, our interior design consultants will work with you to incorporate Marsala into your home and find the perfect window treatment or accent piece to complement your lifestyle.
Marsala-Inspired Window Treatments
Window treatments are a great way to incorporate Marsala into any room. Hunter Douglas, the largest manufacturer of blinds, shades and sheers, offers many of their products in various shades of Marsala. Select from such products as Duette® Honeycomb Shades, Solera® Soft Shades, and Provenance® Woven Wood Shades. Custom drapery is an easy way to bring Marsala into a room. Choose from a variety of fabrics that use Marsala as a solid or as part of a pattern. Complement your drapery with custom fabric pillows and other accents.
Color Combinations Using Marsala
Marsala is a versatile shade that can be combined with greens, turquoise, teals and the more vibrant range of blues. Amber and golden yellows will give you a totally different look and feel. Whether in a flat or textured material, or with a matte or gloss finish, this highly varietal shade combines dramatically with neutrals, including warmer taupes and grays. Because of its burnished undertones, sultry Marsala is highly compatible with amber and golden yellows, greens in both turquoise and teal, and blues in the more vibrant range.
Interior Design Southbury CT
At Window Products, we've been serving Connecticut since 1994 with two showrooms – one in Branford and one in Southbury. We offer the full line of Hunter Douglas window fashions, a nice selection of screen shades, and a wide variety of awnings and shades. Our personalized service, quality products, and professional installation services ensure you'll find the perfect window treatment or awning for your home or business. Contact us for more details.